People are choosing drive to Méribel (or any European ski resort) for many reasons, including:
Fewer carbon emissions, per person, than flying
Less contact with people, reducing Coronavirus risk
Your only baggage allowance is how much you can cram in your car!
Freedom to stock up on self-catering supplies or take home new purchases
The option to explore different resorts
More freedom for 'non-skiers' in the daytime
Extend your trip (or do stop-overs) and visit other places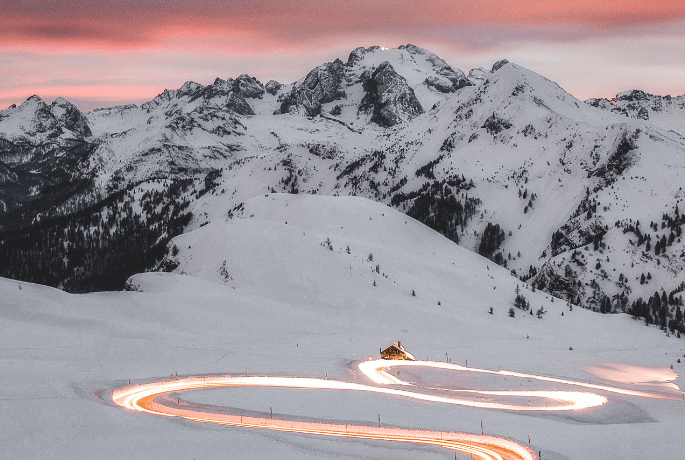 What do I need to drive to Méribel?
There are a few
compulsory items
to have with you, that must conform to EU standards. Most of which are available from Halfords or similar:
A UK car sticker
Warning triangle
Headlamp converters, which deflect headlight beams when driving on the other side of the road.
A high-vis reflective jacket for each person in the car. You must be able to reach the jackets from inside the car (not kept in the boot) and must be used in the event of a breakdown when you leave the car.
Snow chains
Full valid driving licence (not provisional) with the paper counterpart if you have a photo card licence
Original vehicle registration document – your logbook, motor insurance certificate and/or green card
Passport
3rd party insurance
How long does it take to drive to Méribel?
As a very rough guide, the drive from Calais to Méribel should take around 10 hours (Zeebrugge will be similar). However, this will be heavily dependent on traffic, tolls, weather conditions, services stops etc.
www.aprr.fr
have up-to-date information on tolls and traffic conditions.
Important things to think about
We've combined our experience, and the hive-mind that is the internet, to bring you a quick list of important things to think about, when driving to Méribel and across France.
Currently, you do not need an international driving permit (IDP) to drive in France.
Make sure your car is in tip top condition – maybe book a service, check engine coolant is topped up with anti-freeze and your windscreen washer fluid is a more concentrated mix that normal.
Service station food is expensive – take packed lunches/snacks from home.
You may not need to use your snow chains, but it's essential you practice putting them on at home. You could even practice driving a few metres in them. Make sure you have gloves accessible in the car – putting snow chains on in a freezing blizzard with bare hands is not fun.
Check overseas regulations for driving abroad – remember to drive on the right and to give way to the right. Sometimes this will mean that a car turning onto a road from a junction will have right of way over a car already on the road.
Traffic lights: French traffic lights go straight from red to green with no amber stage.
Make sure you research, and you're comfortable with, the French breakdown/accident procedures; and that you have overseas breakdown cover.
Who will be driving? It's a good idea to have more than one person insured and able to drive the car.
Will you be doing a pit-stop? Book accommodation in advance to avoid having to seek out vacancies when you're tired.
Buy or borrow a sat-nav system with European maps – plan your route ahead of time.
Consider tolls when you plan your route - ViaMichelin do great directions, toll road costs and petrol estimations. You'll probably pay around €70-80 in tolls each way, but you can plan a longer route avoiding them.
If you can, arrive outside of the main changeover days (Sat/Sun) to avoid traffic.
How much does it cost to drive to Méribel?
When budgeting for your drive, or comparing it to other modes of transport, you'll need to consider the cost of the following:
Compulsory items (in the list above)
Any surplus insurance
Fuel
Channel crossings
Tolls (optional)
Accommodation (optional)
Parking
Eurotunnel or ferry?
To cross the channel, Dover is generally the best option irrespective of where you're travelling from in the UK. You can choose between the
Eurotunnel
(35 mins and a bit more expensive) or the ferry (90 mins and a bit cheaper) run by
P&O
and
DFDS
. Book online, in advance, for better rates. You can also buy a flexi-ticket for either option if your timekeeping is questionable! That said, if you arrive early, you're often allowed on an earlier crossing. Further north, you could get the
P&O
ferry from Hull to Zeebrugge, in Belgium. Travelling 12 hours overnight for around €219 one way, you get accommodation, a restaurant, bars, Duty-Free, a casino and even a cinema!
Parking in Méribel
Méribel does have
free parking
, but you will have to move your car periodically. You'll find four
pay-and-display
carparks in Méribel, with a max stay of eight days (about €3 for 12 hours, or €43 for a week). There are also
indoor car parks
in town, which you cannot book online, call +33 (0)4 79 00 58 92. All
car parking is visible on this map
. When parking:
Leave your car in a gear
Park facing downhill and turn your wheels towards the kerb to act as a brake
Leave the handbrake off (the cables can freeze and snap)
Lift windscreen wipers up so they don't freeze to the windscreen
Take a note of where you parked in case your car is hidden under a heavy snowfall!
By this point you should be all sorted and ready to enjoy a relaxing
catered chalet holiday in Méribel
!
Let us know
if you do plan to drive out, and we can advise on timings, parking etc. If you're feeling inspired – you can browse our Méribel chalets here. Alternatively, if you want to pair your road trip with a
self-catered ski apartment
, get in touch with
The Ski Company
.
---